Features
Meet the World's Most Comprehensive Accessibility Tool
Our website's interface has been designed to ensure the accessibility requirements of our users are met. It provides an easy-to-use interface which enables users to modify the UI, design, and readability of the site to meet their individual needs. This ensures everyone can access the website and experience the content in a way that best suits them. It also allows us to create an inclusive, barrier-free online experience for all our users
.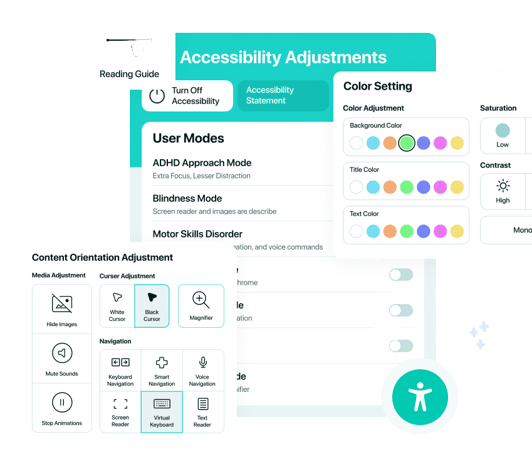 Features
Accessibility Profiles
At AceADA, we strive to make using technology as easy as possible for individuals with disabilities. Our widget provides a quick and simple set-up tailored to a user's individual needs, eliminating the need to search through different accessibility settings and customize them individually.
Website content adjustment
Website Content Adjustment
Provides users with the capacity to alter the appearance of your website's content to make it legible for those with particular impairments. People with vision-related problems such as blurred vision or presbyopia can use these customizations to adjust your site's material to their individual requirements.
Content Orientation Adjustment
To help those with vision, cognitive, or motor impairments navigate your website more easily, this section provides a variety of adjustments. This includes adding shortcuts and navigational aids, as well as minimizing distractions and noise.